Is it true that the greatest perfumes come in little bottles? Will the same be true for dogs? Whatever the breed, some dogs are so tiny that they may win your heart with a mere tail movement, in this article we will list the smallest dogs in the world.
The Smallest Dogs In The World

Harlequin
This dog is so tiny that she is hardly larger than a can of Coke. she stands at 3,5 inches tall and, like many other little puppies, can fit in the palm of anyone's hand. she was born in Bellshil, Lanarkshire, Scotland, and currently resides with its owner, Adleigh McCluskey. She adds she has to be careful with Harlequin since she can't take her for a walk like a regular dog because it can't use a dog leash, so she has to use a ferret harness. Isn't that the prettiest thing you've ever seen?
This small dog was also a candidate for the Guinness World Record for the smallest dog in the world.
Tiny dancer
Dancer, a 5-inch tall chihuahua with long hair who weighs 1.12 pounds. his owner is Jenny Gomes, When her neighbors abandoned a pregnant and injured Chihuahua, she rescued her and two weeks later the puppies were born, the second of which was Dancer, who was the size of a thumb. Jenny was advised by the veterinaries that it would be best if the puppy was sacrificed since health problems may arise and worsen over time, However, she refused to accept it, allowing the dog to survive. She is a true dog lover!
Dancer who nearly nabbed a Guinness World Record as the world's smallest dog, but he was knocked out of contention by 4.9 inch Ducky from Massachusetts. unfortunately, the Poor little dog died but At least he made it to 2 years old.
Scooter
Scooter is a Maltese puppy with white hair and stands at 3.14 inches tall and 7.8 inches from nose to tail. It's so little that it might fit in a teacup!
It was born in Gisborne, New Zealand, together with two other puppies, and it stopped growing after two months. It was named Pee Wee before being adopted by its current owner, but that name was changed since it signified inferiority.
This little dog feeds three times a day from a cup of eggs and sleeps in a shoe box. Cherly McKnight, the dog's owner, told the New Zealand Association press that she didn't love Scooter at first, but that over time, she grew to adore the dog to the point where they were inseparable. She made a garment out of a purple sock so she could see the dog and avoid accidents in the house.
Tom Thumb
This is a cross between a Chihuahua and a Jack Russel, and it is just 4 inches long, making it even tiny than a guinea pig. It was a candidate for the Guinness World Record for the tiniest dog in the world. Its owners are Susan and Archie Thompson, who fell in love with Tom and the other puppies born at their West Dunbartonshire, Scotland home because they had more company. The tiny Tom is the third tallest of its brothers and can comfortably fit in Susan Thomson's hand.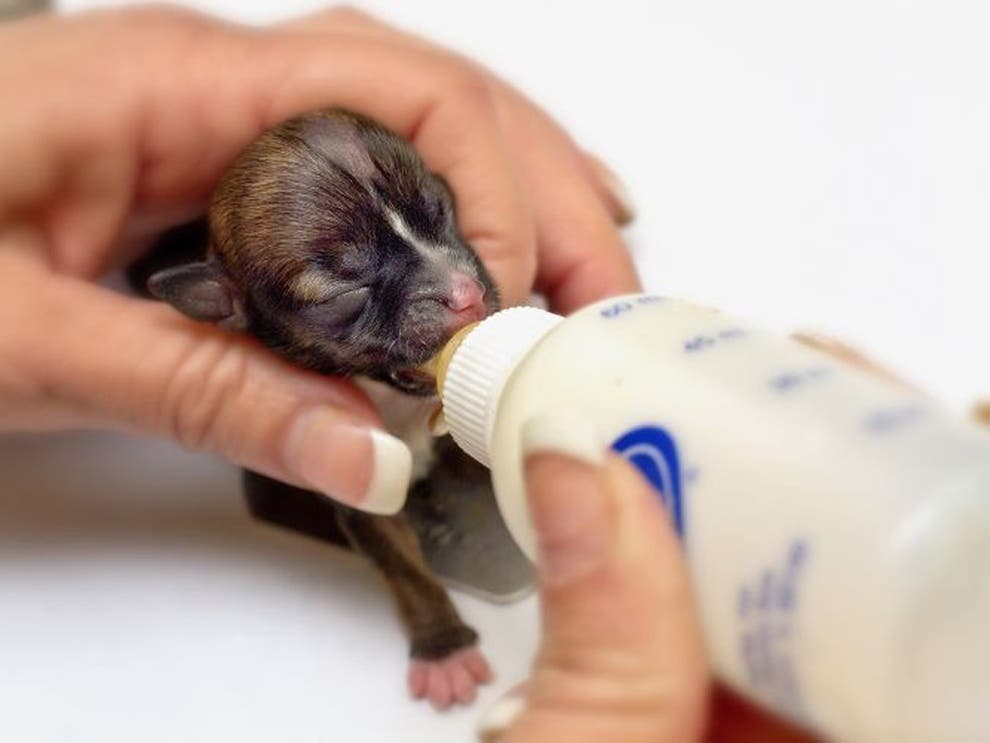 Beyonce
No, she isn't the singer. Beyonce is a Dachshund mix that is just 4 inches tall. Her mother, Casey, was pregnant and living on the streets when she was scheduled for euthanasia but was spared by The Grace Foundation. The troubles continued on the day Beyonce was born since she was delivered without life signs, so the veterinary had to give her CPR to revive her, which was successful.
However, because she was so little, specialists had no doubt that she would live. Fortunately, they were mistaken, and Beyonce was becoming stronger with each passing day.
Brandy
Another Chihuahua that has won the Guinness World Record for the tiniest dong in the world. This little dog, measuring just 6 inches from snout to tail, earned the championship in 2005.
Heaven Sent Brandy is a Chihuahua from Florida, United States, where she resides with her owner, Paulette Keller, who dresses her in a Hawaiian pink outfit and transports her in a sheepskin bag. Brandy became well-known, so much so that she featured on television shows and was a part of an exhibition in a casino alongside the world's largest dog.
Danka
Danka, a 2-year-old dog from Revuca, Slovakia, was proclaimed the smallest dog alive in the world by the Guinness World Record Book in 2004, dethroning Brandy, a Florida dog. Because it is barely 7.4 inches long and weighs approximately 1.7 pounds, this long-haired chihuahua attracts a lot of attention in its home nation.
This small dog was unusual in that it did not enjoy dog food; instead, it ate crumbled cookies and ate less than a kilo each day.
Danka died in 2006, and the tiny Ducky took his place.
Ducky Ducky, a chihuahua that is 5.4 inches tall, received the Guinness World Record title as the world's smallest dog in 2007. It stands 4.9 inches tall and has straight hair. It may be one of the world's smallest dogs, but it's also one of the smartest, according to its owner, who describes it as the most intelligent dog she's ever owned. Miss Messier says she named it Ducky because he is quite noisy and likes to bark, but when it attempts to bark, it makes a duck-like sound.
Boo Boo
This chihuahua is just 4 inches long and weighs under a pound. It was in the second part of 2007 that she broke the record for the smallest dog in the world, unseating Ducky, who measured 4,9 inches.
Lana Elswick of Raceland, Kentucky, is Boo Boo's owner. She has been raising chihuahuas for almost 19 years and has committed so much to these pets that she even has a solarium in her yard that she uses as a dog's house. Lana claims that this is a difficult job and that many dogs suffer from hypoleukemia.
She claims that Boo Boo was the size of her thumb when it was born, and that due to the illness that comes with its size, the dog has been in two life-or-death situations, but that she was able to save her life using a product called Per Nutra drops, which goes right to the blood.
Milly
This little Chihuahua has a lot of fans and was born on December 1st, 2011 in Dorado, Puerto Rico. Her full name is Miracle Milly, and she stands only 3.8 inches tall and is no bigger than a Hershey's bar in length; incredible, right? That is why, on February 21, 2013, she was awarded the Guinness World Record for the tiniest dog in the world, displacing Boo Boo.
Vanesa Smeler, an Argentinian who breeds chihuahuas, is her owner. Milly was born weighing less than a pound, fitting on a spoon, and the only way to feed it was with a dropper that fed the puppy milk every two hours, according to her. The pet was becoming stronger and gaining weight as a result of its owner's commitment and effort.